Versatile email templates.
With LePatron, your email templates become versatile! No need to maintain several versions of your templates depending on the use or the market. Your template adapts to all situations according to your needs.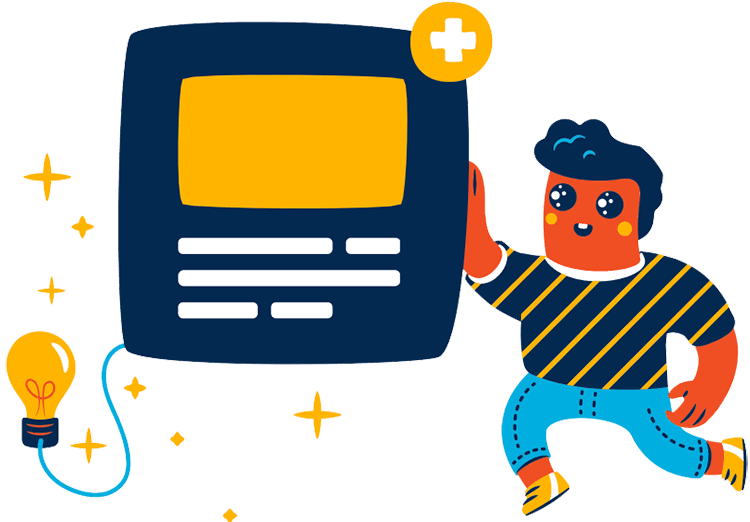 "An interface is very intuitive, with blocks that you can add to your newsletter or email by drag and drop. You can find simple and easy to use designs, and you can customize many parameters on the different elements (text, images, banners, colors, footer etc..) You also have the possibility to have a mobile preview and thus have a responsive view of your email. The little plus: you can put background images on the text blocks. I recommend it!"
"With the pattern, creating HTML is child's play: it's simple, fast and efficient. The tool really saves us time! Marion and Grégory's support in setting up the tool is TOP! We have a fully customized interface with the colors of our brand and we even have the possibility to have the interface in several languages (useful when we work internationally in 5 countries). Goodbye dreamweaver with the galleys of the HTML code which "fart" and place to a code of quality entirely responsive which ensures us a very good deliverability on the ISPs. In short, the tool is a must!"
"We are very satisfied with the solution but also with the commercial relationship with Le Patron. The tool is agile, flexible, fast and allows us to drastically reduce our design time for our newsletters. The Le Patron team is very reactive to our expectations, needs and questions, and the roadmap evolves quickly to make the tool live and test new features."
"The Boss mesmerized us with the presentation of new blocks. He understood our digitalization goals and omni-channel needs, in addition to a trusting and good-natured relationship that developed."
"I've been using Le Patron for over a year now, and I've been able to be more productive with my emailing while keeping my creativity. This tool is easy to use and intuitive. This app fulfills its purpose and works great for me."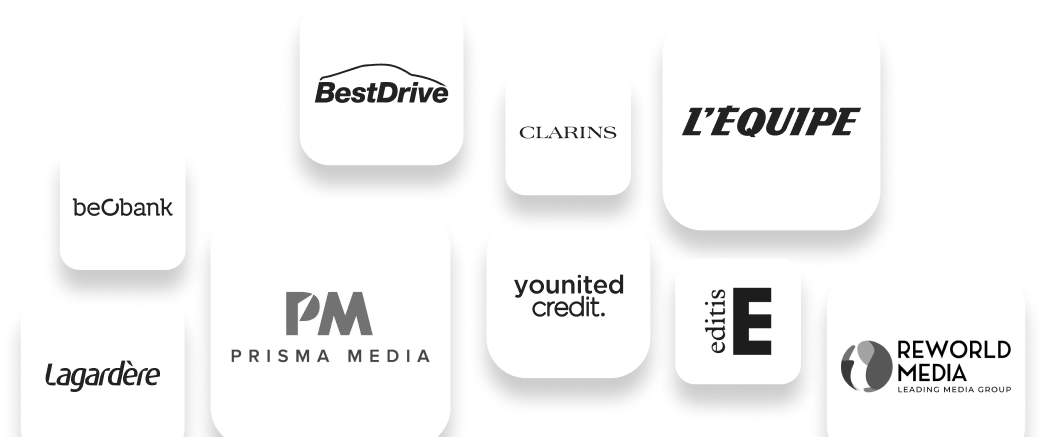 For several brands
In one click, your logos, colors, header and footer are adapted to the selected brand.
For several countries
Are you working on several markets at the same time? Select the one you are interested in and the content of your email will be adjusted accordingly.
For several languages
Use LePatron to simplify the translation of your emails. In less than a second, common elements of your emails are automatically translated (header, footer, calls to action...).
For multiple campaign management platforms
Use the customization variables and conditional blocks in your routers. Even if you use different solutions.
For many
targets
Target your customers, your prospects, your newsletter subscribers using the same template. You use a different logo or tracking for these targets? No problem, your template handles it for you.
For several types of messages
Newsletters, transactional emails, notifications, automatic emails... with LePatron, you respect the best practices and the constraints of these different formats, while keeping a coherence in your email communications.
Unified templates for simplified maintenance.
With LePatron, there's no need to create different templates for your brands, for your different markets, for your targets, for different email types. We unify your templates to ensure consistent branding and easy maintenance.

LePatron allows you to automatically track all the links in your emails without having to edit each one. And this, whatever the web analytics solution you use (and even if you use several different ones).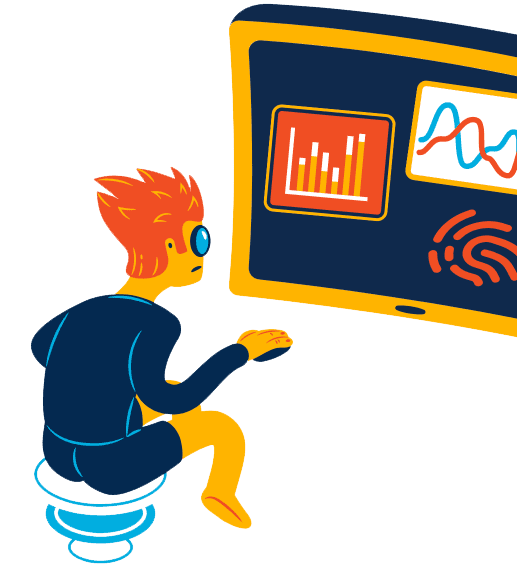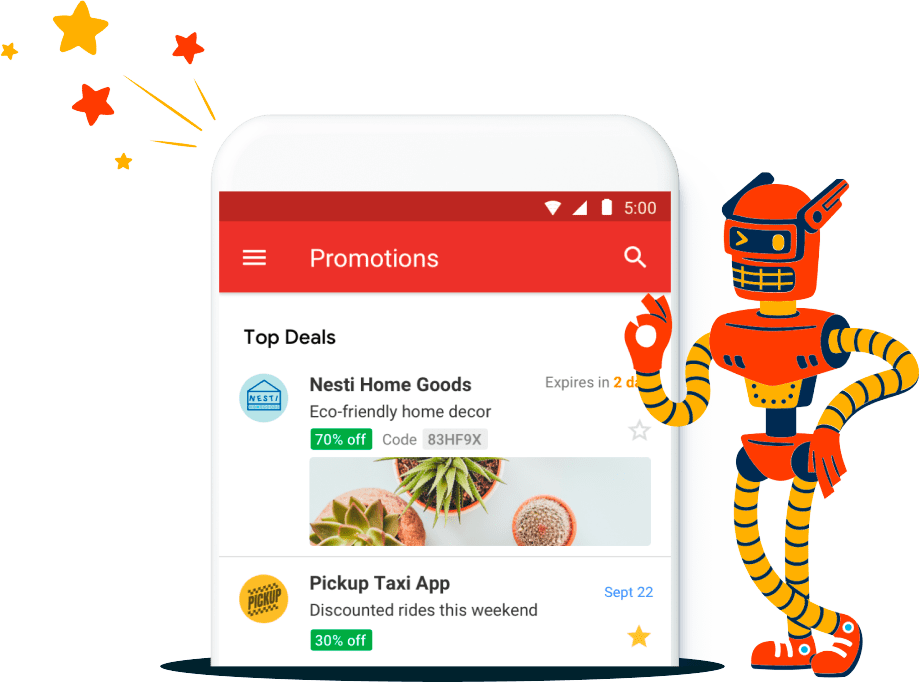 Gmail annotations are meta-data to add to your emails. They allow you to stand out in a priority and visual way in the Gmail Promo box. Since LePatron, you can in a few clicks add these meta-data without touching a line of code.

Display of headers / footer.
In your templates, the header and footer are structuring elements! And to meet all your needs, we offer to manage finely the elements you want to display or not. Which social networks, the pre-header sentence, legal notice management, reassurance...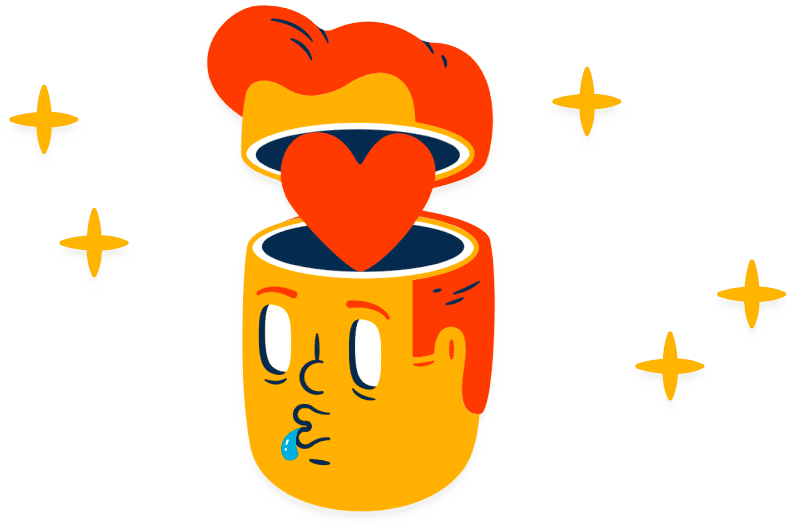 Take it to the next level
LePatron is generous! Schedule a demo with a team member and discover the power of custom emailing.
LePatron, a tool made by Badsender