We haven't communicated about the various new features and innovations of the LePatron email builder for too long now.
Not that nothing has happened, on the contrary. We have a few new things that we haven't taken the time to introduce to you. And even though it's more of a summer vacation time, maybe they'll help you get ready for the new school year.
New Podcast block: audio in your emails
Yes yes, you hear me right. And no, it's not a fad but a need.
An internal need even, since it was Jon who pushed the idea to highlight the lives Badsender of Marion in the newsletters.
To limit the video formats and all that it can represent in volume and kb to stream, the lives are now available in audio format on most streaming platforms.
The same way you would for editorial content and to highlight your latest publications, this podcast block allows you to promote your latest shows directly in your email campaigns.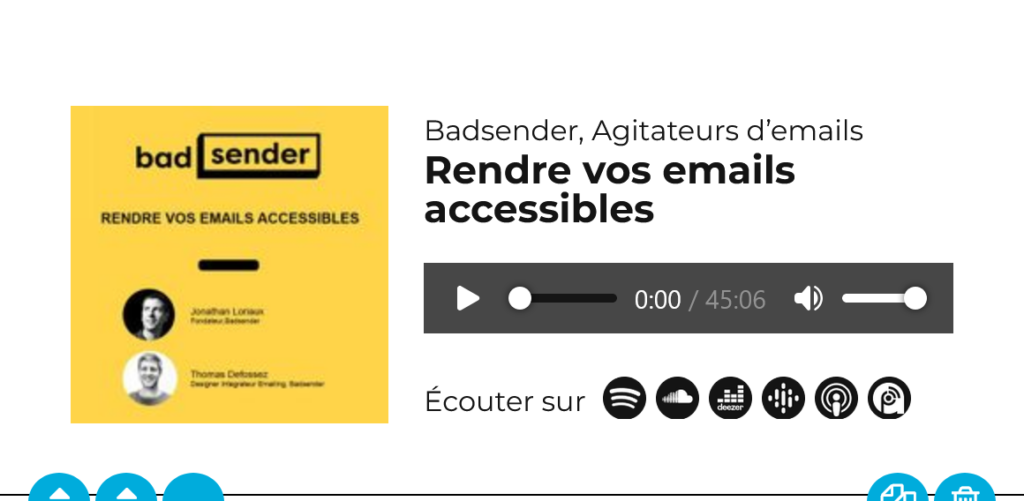 Of course when it comes to innovative blocks using technologies that work very well on the Web via modern browsers (support Firefox damn ;-)), in emailing we know we have some bad students (do I really need to make name and shame with Outlook ? Ooops) and so audio playback will not work all the time and everywhere.
Is that really the point? Are you really going to listen to 1 hour of podcast from your mailbox? No, the idea here is to put forward an extract. So even if the player only works in a few specific cases (thanks Apple), you can push for loyalty on streaming platforms.
In the options there are the links provided and you can customize to your own needs.
The configuration of the block goes much faster than the upload time of your podcast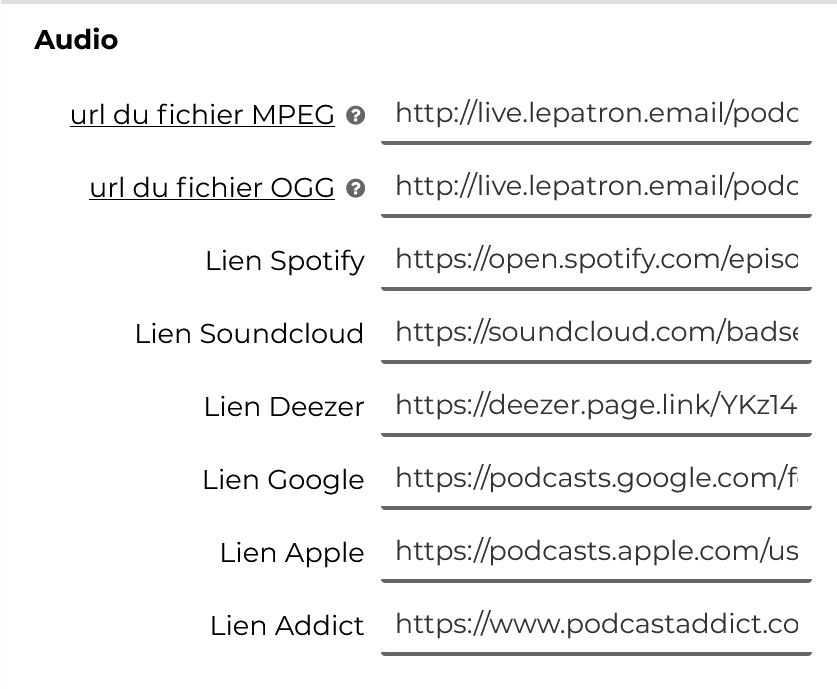 Two types of audio format (which will be prioritized according to the mail clients)
Links to podcast platforms (Spotify, SoundCloud, Deezer...)
Some limitations to be aware of
In addition to the support of audio listening via the player according to the mail clients, it is the rendering of the player itself, which may be different depending on the opening environment and the style customization options are very limited in HTML email.
📢 You produce podcasts and want to highlight them in your email communications? Do not hesitate to contact us with your needs or to request a demo of this block.
New conditional blocks: a single email to manage your customization according to your desires
This is a slightly more complex subject that comes up regularly and raises a number of questions.
Whether they are customers who use the LePatron email editing solution or for integration of templates in other email builders : "how to customize my email creative without having to multiply campaigns in my router?"
In other words: produce personalized campaigns according to the scenarios and/or data in my database in order toadapt my content and messages as easily as possible from a single creation (if it is possible!).
I already do email personalization, what is he talking about?
First of all, to have a management of the variants and declinations of campaigns you need a little methodology and I imagine that you have your own habits and conventions on the side of your router.
This is one of the first pitfalls. Organization.
As long as you have many people in the production team, many variants for the same campaign and many campaigns... it can quickly become difficult to synchronize everyone (even more so if there is turnover) and to agree on practices. As a result, there are many of them in the router and we lose time to find what we are looking for.
Plus, are you using a builder to create your HTML emails? It's a good idea, but you end up with much the same problem in the builder since you duplicate the creatives in order to adapt them for each variant of your campaign.
For example: you ask the legal department to proofread the offer at the last minute. He returns a typo in the legal information of the offer and you have to go back to all the creative variants in the builder and reimport them into the campaign variations that you had started to program in your router. It's a bad start to the day and a waste of time. Weren't we supposed to industrialize production and save time?
Do you feel concerned? Ok then the rest is for you 😉
What if we only had one creation to generate our HTML emails?
Last minute updates would be easier. The management in your ESP would be super clean. Once again you only have to focus on your content and messages.
Let's take an example, it will be more meaningful. E-commerce of ethical products made locally and in a sustainable way. It speaks to us.
Display a selection of products dynamically from customer dataThat's no problem. We come to make this directly in a responsive multi-column block with an association (mapping) between the specific tags of the router and the content of the template. Then we retrieve via variables the visuals of the clothes, their names, their descriptions and the associated links to the e-shop. Note that we could very well add the price, the promo...
On the other hand I want to have a by using a block cover (a beautiful visual, a punchy hook and of course a well-felt action button), for target young people aged 35 to 45 (of course one is young at that age!) with a desire for adventure in nature in the middle of the Ariege.
But I must also decline for the equally young people from 55 to 65 years old who want to party until the early morning in a European capital.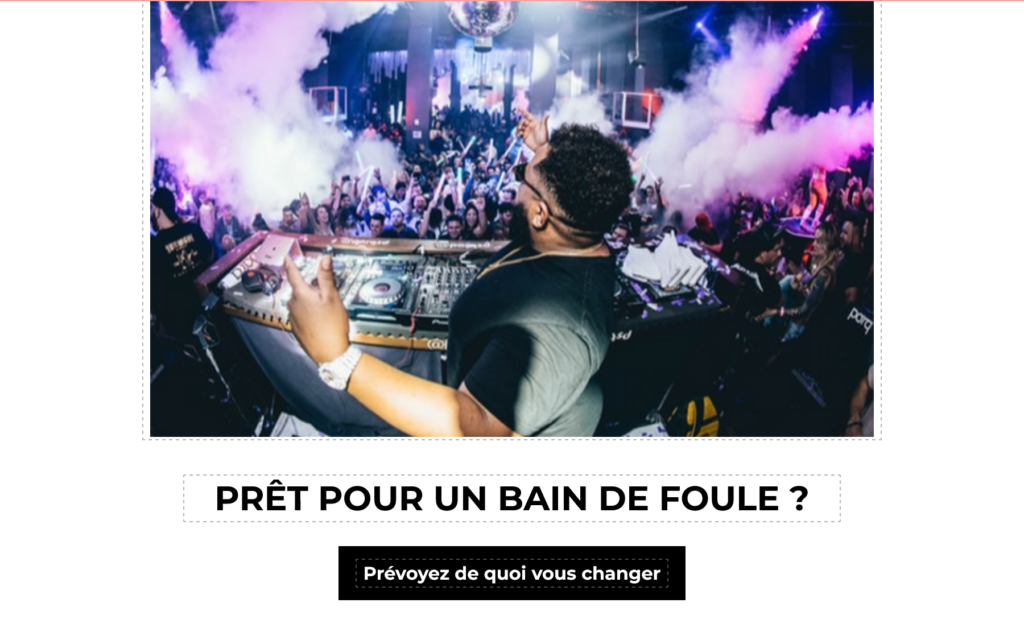 You're going to do two creatives with two visuals and as much campaign when that's the only part that changes?
Header, menu, footer, mentions, social networks, dynamic products in multicolumns, sponsorship, promo code, what do I know... everything else in the email is common!
And again, you have even finer targeting and you have not 2 but 20 variants to produce. No, seriously, we can't let you do that. We have a solution for you.
You know your router, its syntax and your personal data?

You activate the conditioning option on the block
You duplicate your block in the one and only creation from the builder
You write your targeting queries
You customize your image and text content for your variants
That's it, we're done talking about it.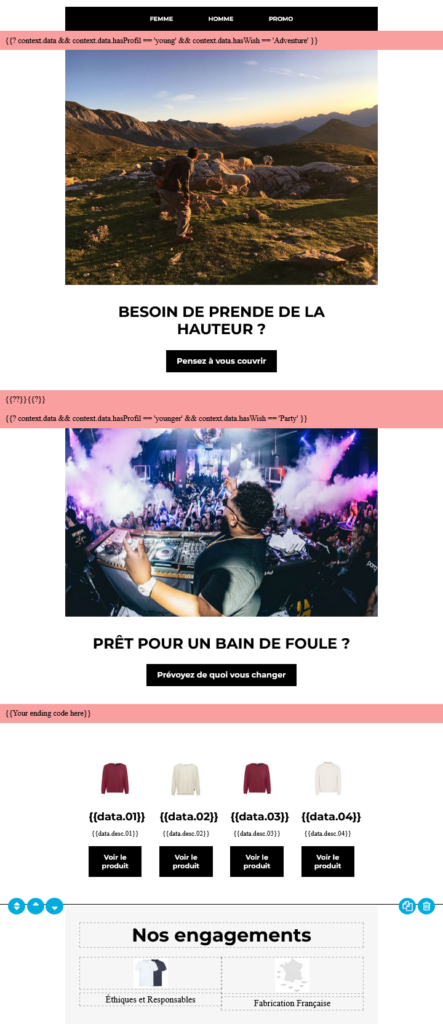 Imagine, if you were to change one piece of reassurance here 😉
All this is of course only an example and you could find a whole lot of other fields of application.
📢 If you want a demo or to know how to add this feature to your template, make an appointment with us 😉
That's it for the news?
No. We still have a nice project to show you and this one deserves a dedicated post so don't go too far away.
A hint: it's a word that comes up a lot here and it's not dirty: IN-DUS-TRI-A-LI-SA-TION!