Article updated on February 14, 2021 in love mode <3
The LePatron email builder will celebrate its 5th anniversary this year (party or what?). Don't worry about it, we will not repeat the whole story. During this live, we want to show you the backstage of our email builder. How do we see things? How do we choose the features to develop? How do we prioritize them? What is the primary purpose of the tool? Who is it intended for? Why do we believe in industrialization and the design system? How should advertisers organize themselves today to create quick and coherent emails?
For this live, I asked all my questions to Olivier Fredon, the Product Owner of Patron.
Add the live event to your agenda!
The truth is, there is no registration required for Badsender lives. You just have to go to our Youtube channel on the day. However, in order not to miss the live, please feel free to use the links below toadd the event to your calendar.
Add event to calendar
The participants

Marion Duchatelet : She advises Badsender's customers in their emailing strategy and in the choice of their tools. She organizes master template design workshops for the email builder LePatron. She writes articles, hosts lives, does training with Badsender but not only that, she jumps on every good idea to make sure it becomes reality. She never gives up, never! She wants to understand everything, EVERYTHING!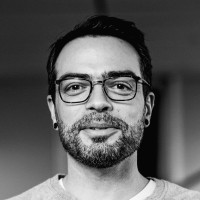 Olivier Fredon : He is the Product Owner of the email builder Le Patron. Olivier has been working for Badsender for 1 year now. It all started with an audit of our Patron development practices. King of digital cleaning and organization, Olivier has already largely marked Badsender by his ruthless vision of project management. Sometimes, he scares us. He understands extremely well the business vision, the user benefit and the technical impact. He is conscientious, meticulous. In addition, he works 4-day weeks to reserve 3 days a week for climbing, we are a little jealous!
Follow the live stream directly on Youtube
You can either stay here and press the "Play" button, or you can go directly on Youtube (which is better, since there is a live chat where you can interact with other viewers and ask your questions directly). So now you know what choice to make!